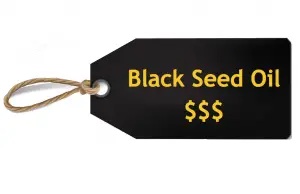 Black seed oil – also known as kalonji oil in Arab countries- comes in a variety of sizes and volumes, based on your needs. When you buy black seed oil,  you are going to pay as little as $1 per fl oz in very large quantities and up to $10 per fl oz in some cases on very small volumes.
The purity and quality and extraction and place of origin will also impact black seed oil prices.
Organic vs non-organic black seed oil
Non-organic black seed oil will cost more than organic black seed oil. This of course is true for most food and food-based products that come from seeds, fruit (like olives) or grain. Organic is a certification that ensures the product being produced is not subject to herbicides, pesticides, or other artificial means of growing or production. If you see the "USDA Organic" or "Certified Organic" seal on black seed oil, then it must have an ingredients list. And, the contents must be 95% or more certified organic, meaning free of synthetic additives like pesticides, chemical fertilizers, and dyes, and must not be processed using industrial solvents in any way.
Purity and extraction methods also affects price
Oils are pressed out of fruits, seeds and grain and so a first press is considered extra virgin. Virgin oil may be extracted ona  second pressing. And "pure" oil may be extracted using heat or chemicals
First cold press or extra virgin black seed oil of will usually also cost more than what is consider pure black seed oil.
Place of origin
Black seed oil comes from a variety of locations in the world. It is produced in China, India, Malaysia and other Asian countries. It is also produced in Egypt, Saudi Arabia, and other parts of the Middle East. In some cases the seeds are imported to the country of sale and then they are pressed. For example you may see "pressed in the USA" on a label of black seed oil. This means that the black cumin seeds were imported in the United States and then the press to extract the oil was located within the 50 states. It would also be bottled in the U.S. under this circumstance too. The location of production may impact the price, as the cost to ship the seed or pressed oil will need to be factored into the cost of final sale.
What are black seed oil prices on a per oz basis?
Here are some standard black see oil prices and volume sizes. We have also provided a few place where to buy the product at that price. Be sure to check to see if shipping is included in the prices as that will vary the cost per fluid oz or per milliliter (ml):